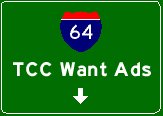 SUBMIT
Please note that all For Sale items are listed here for the benefit of you, the user. No fees are charged, No funds are exchanged for this service or listing. Items must be automotive related. Listings are at the discretion of the webmaster. Photo Ads must contact the TCC Webmaster for instructions. Ads will run for as long as I choose due to space and time constraints. -And of course, TCC assumes no responsibility for items listed, their discriptions and pricing. In other words "Buyer Beware!"
---
Corvairs For Sale / Wanted
FOR SALE
1967 Corvair Monza Coupe
I'm selling a 67 Monza Coupe in good condition: blue paint, blue interior, and carpet. The 110hp engine was overhauled last year and it has no problems. It's in good drivable condition. Everything works even the radio. It has a electric fuel pump. It was owned by my Great Grandfather Arthur Ainsworth who was with the CORSA for many years. If your looking for a nice dependable classic car, this is one you might consider. I'm located in Oklahoma City, OK. Yu can Email me with any questions or I can send some pictures if interested. uknowit4m@yahoo.com is my Email address. My names is Rae Ainsworth. I'm asking $5000, I can negotiate.12/04
---
FOR SALE
1963 Corvair Monza Convertible
White, Red interior(has been replaced). Needs body work and new top. Motor does run. Have extra parts. - $1,000 Contact Jack Jennings at 252-537-8234 or jgjcpa@earthlink.net Macon, NC 11/04
---

FOR SALE
1961 Corvair Monza Club Coupe
Sateen Silver Black interior. 15,000 miles! Excellent Original Condition. Only correct NOS parts used to replace imperfections. Drivetrain never removed. Old Cars Price Guide #1 is 15,000, This car is very strong #2 Offered under appraisal at $10,000 FIRM details Dan Jones - Hampton, VA corvair@erols.com 4/04
---
FOR SALE
1967 Corvair 500 2 dr. Coupe 140 HP 4 Spd. A/C car. Black exterior w/ Monza wheels. Black Monza interior w/ bucket seats. New Ignition system, New battery, New Brakes, New Ball Joints. New exhaust. Few minor spots of rusts. Floor boards are good. It's a really a fun car. Wife drove daily. Extra set of rust free doors can go with car. Asking $3000.00 neg.- Shay Geeding - Norfolk, VA. (757) 531-1997 or Speedraycr@aol.com 11/04
---
FOR SALE
1964 Corvair Monza Sedan
Cadillac Red, Beige interior. Excellent Condition. 110 HP, In dry storage since 1984. No rust issues or interior blemishes. Asking $4,000 Ed - Palmyra, PA eapylecompany@cs.com 4/04 (717) 838-1209
---
FOR SALE
1965 Corvair Monza Convertible
Red Excellent mechanicals. Drive daily or use for shows and parades. $4500
Jon Heddleston Sperryville,VA revjon3_16@msn.com 4/04 (540) 987-8137
---
WANTED
Early Model Monza Coupe. 4 speed - good condition.
My name is Mike Bath. I'm 61, bought a new '61 Corvair Monza coupe (fawn beige) and took my future wife out in our first date in that vehicle! We're going to celebrate our 42nd anniversary on 9-6 and you guessed it-I want to find a duplicate Monza to buy. Would like to disprove: "you can't go back"-especially with the most fun car I've ever owned. Any help/suggestions you may have-or somebody you you might put me on to. Feel free to give up my contact info: 14 Catamaran Court, Ridgeley, WV 26753 304.738.8727
---
---
Other Cars For Sale / Wanted
FOR SALE
SOLD1966 Dodge A100 Pickup
Blue and silver, very good mechanicals. Drive daily or restore while driving. Rare and always draws interest. 225 slant six with 3-on-the-tree.
---
---
Corvair Parts For Sale / Wanted
WANTED
Very early radio housing + speaker mount(1960-1962?) Knob holes are small and the same size. VG to EX cond. Contact Dan Jones 757-838-2322 corvair@erols.com 4/04
---
FOR SALE
Lakewood windshield VG to EX condition. $100 cash and carry. May be able to deliver to VA on my time frame if interested in a spare. Located in PGH, PA Contact Dan corvair@erols.com 11/04
---
FOR SALE
Early Model Quick steering arms. Contact Dan corvair@erols.com 11/04
---
FOR SALE
110 engine for sale complete (unknown condition) and one dissasembled,
1 powerglide trans.,3 carb., 1 set of tailights. Make an offer.To Dave in Lewistown, Pa. at jeepman3@verizon.net Thankyou 10/04

---
Other For Sale / Wanted
---